/// SITE UNDER CONTRUCTION ///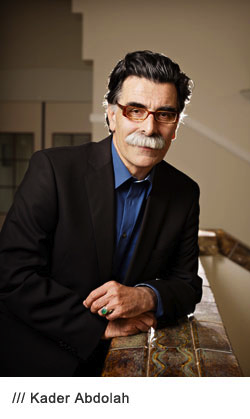 /// Ensemble Zerafin & Kader Abdolah
/// Oriental Liaison
/// Contemporary culture from the East

Next Concerts


January 13th | 20h30 | Amsterdam Tropentheater (première) |
www.tropentheater.nl

- - - - - - - - - - - - - - - - - - - - - - - - - - - - - - - - - - - - - - - - - - - - - - - - - - - - - -
January 31st | 20h30 | Tilburg Het Cenakel |
www.delink.nl

- - - - - - - - - - - - - - - - - - - - - - - - - - - - - - - - - - - - - - - - - - - - - - - - - - - - - -
February 11th | 20h15 | Alkmaar Provadja, Toon en Taal Festival |
www.provadja.nl

- - - - - - - - - - - - - - - - - - - - - - - - - - - - - - - - - - - - - - - - - - - - - - - - - - - - - -
February 23rd | 20h30 | Eindhoven Plaza Futura |
www.plazafutura.nl

- - - - - - - - - - - - - - - - - - - - - - - - - - - - - - - - - - - - - - - - - - - - - - - - - - - - - -
March 25th | 15h00 | Amsterdam Bethanienklooster |
www.bethanienklooster.nl


Performers


Kader Abdolah – recitation

Bassem Alkhouri – voice & qanun
Raphaela Danksagmüller – duduk & recorder
Fang WeiLing – erhu
Karin Preslmayr – viola da gamba
Kristina Fuchs – voice
Matthijs Koene – pan flute
Jelte van Andel – double bass
Bente Olie – percussion



Composers


Vatche Sharafyan
Zaid Jabri
Anahita Abbasi
Elias Bachoura
Reza Namavar
Polina Medyulyanova
Boushra El Turk
This performance
is about friendship. Friendship thanks to differences, not in spite of them. A centuries old fable from the East forms the lead of Oriental Liaison: Motawatché, the dove that wore a necklace of pearls is about the blackbird, the mouse, the turtle and the deer. On first sight they have no common ground, and yet they form a friendship that is indestructible. "If a friend calls for you in need, you don't ask why."

The story of these friends touches the core of Ensemble Zerafin. These musicians decided for a similarly indestructible friendship after collaborating for years in the Ensemble Ziggurat.

For Oriental Liaison, Ensemble Zerafin has invited composers with roots in the Middle East to write compositions to Motawaché. These composers operate in the middle of the contemporary music world, but have always kept a connection with their origin.

Motawaché will be recited by Kader Abdolah. He wrote the Dutch version of the Fable, departing from the Arabic. The prize-winning writer fled from his native Iran to the Netherlands in 1988. Soon he started to write in Dutch, while in his work he reaches back to his Iranian roots.

The performance closes with an epilogue on a text by humanist Petrarca. Humanists saw the world not as a hellish waiting room for heaven, but as a fine place where relations to others are central. Just like the blackbird, the mouse, the turtle and the deer.



Management

Erica Baud +31 20 6271806
ensemble.zerafin@gmail.com